Ultimate Checklist to Prepare Your Bridal Shop for the Busy Season
Nov 10, 2023
| By admin
1
minute read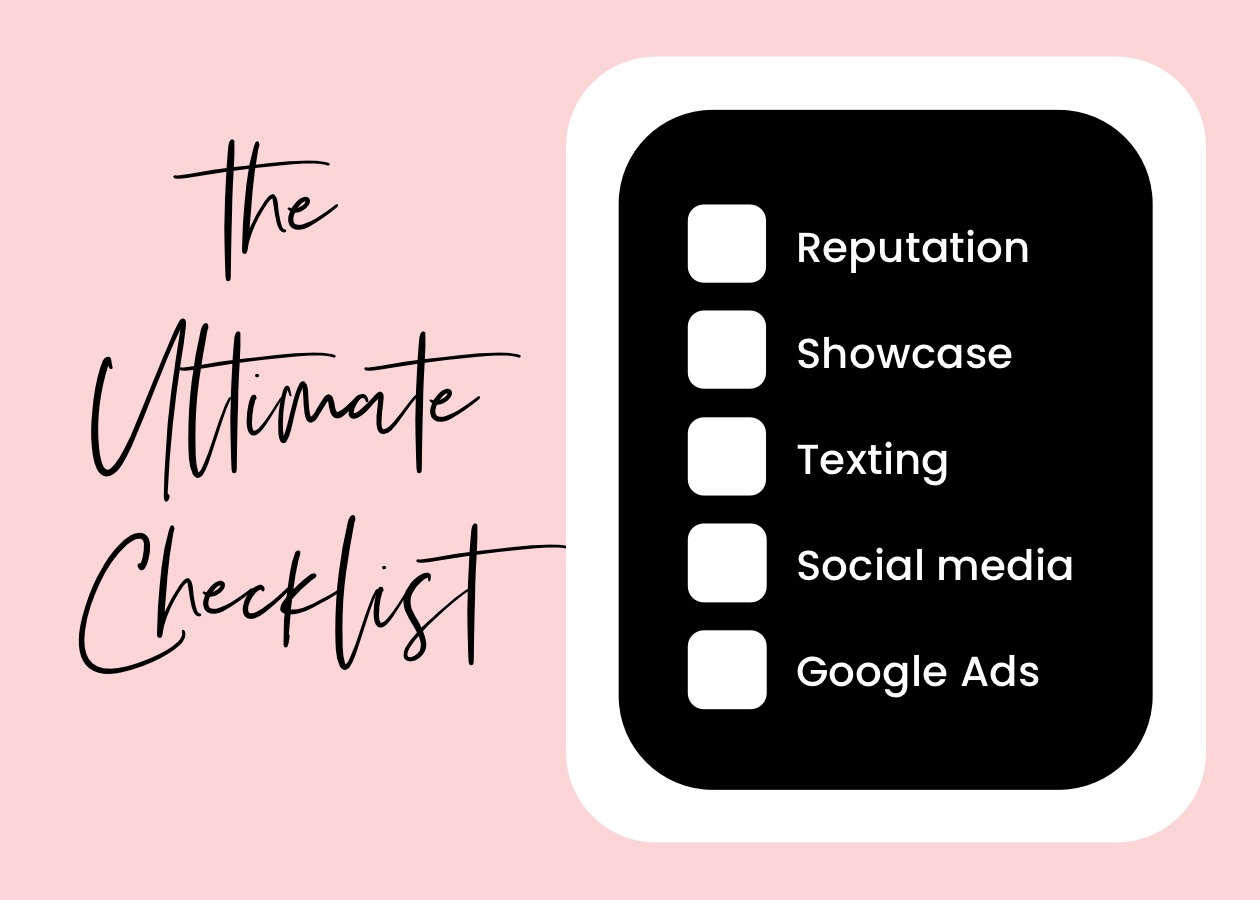 The rush of the bridal season is upon us, and as a bridal shop owner, you have the power to make every bride's dream come true while ensuring your business flourishes. Here's your strategic checklist:
Build a Stellar Reputation
Reviews Matter: Online reviews are the new word of mouth and are crucial for your bridal shop's image. Check out our deep dive on reputation here: Maximizing Your Bridal Shop's Potential: The Power of Google Ratings
Action Items:
Incentivize happy brides to share their experiences with reviews.

Engage professionally with all reviews, showing your dedication to customer satisfaction.
Utilize text messaging to gently remind customers to leave their feedback.
Showcase Dresses on Your Website
Visuals Sell: Brides begin their journey online, browsing through selections and imagining their big day.
Action Items:
Ensure your website is up-to-date with your latest dress collections, complete with high-quality images and descriptions.

Verify that the user experience is seamless, allowing brides to easily navigate through the various styles.
Incorporate a wishlist so that you can automatically acquire contact information from potentially qualified brides
Implement Text Messaging
Personal Touch: Direct communication can enhance the customer experience significantly.
Action Items:
Set up automated yet personalized text confirmations and reminders for appointments.

Follow up with brides post-appointment for feedback and further engagement.
Develop a consistent communication strategy that can be refined over time for optimum results.
Embrace Social Media
Engage and Attract: Social media is your digital storefront to the world. Check out our TikTok Strategy guide here: Navigating the Aisle of TikTok: A Bridal Shop's Guide to Organic Content and Advertising
Action Items:
Create engaging content on TikTok to reach a broader audience.

Maintain a curated Instagram feed that aligns with your brand image, with active story updates.
Use social platforms to showcase real brides, new arrivals, and the special experiences your shop offers.
Leverage Google Ads
Strategic Spending: Google Ads are a proven method for attracting brides-to-be when they're most ready to act. Check out our Google ads deep dive here: Leveraging Google Ads to Drive Qualified Appointments
Action Items:
Begin with a modest ad budget to test strategies and find what resonates with your audience.

P

lan to increase your ad budget immediately after Christmas to capture the wave of holiday engagements.
Craft ads that clearly communicate the unique qualities and services of your bridal shop.
Optimize for Search Engines (SEO)
The Long Game: SEO efforts take time to mature, so starting now is imperative. Check out our SEO deep dive here: The Essential SEO Guide for Bridal Shop Owners
Action Items:
Research and integrate bridal-related keywords throughout your website.

Regularly update your site with fresh, relevant content to keep it ranking well.
Ensure technical SEO practices are in place for mobile optimization and quick load times.
Partner with SYVO for Success
Your Bridal Business Ally: SYVO is equipped to support you through each step of this checklist.
Our Commitment to You:
We provide a risk-free trial to get your bridal shop ready for the season.

Our money-back guarantee stands as a testament to our confidence in our services.
Take advantage of our special holiday promotion to propel your business forward.
Reach Out Today:
For more information on how SYVO can help you make the most out of the busy season, contact Peter at peter@syvo.com or call (512-553-1847).
Related Posts