Navigating the Coronavirus: A Digital Marketer's Guide for Bridal Retailers
Mar 20, 2020
| By admin
4
minute read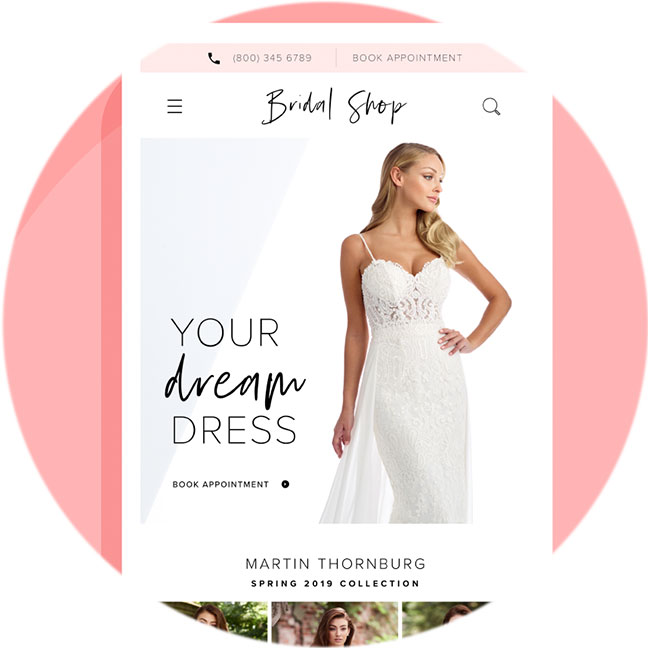 The coronavirus has left many stores wondering what exactly to do when the main goal of their digital marketing campaigns (driving store traffic) is not feasible at this time.  The gut reaction is to start cutting budgets, and to pause ad campaigns. If this sounds like you, then let's talk about some lean strategies you can implement without wasting money attempting to drive traffic to your store. 
What to do with Google Ads

What to do with Search Engine Optimization (SEO)
Google Ads
If you've read our eBook (Maximize Your Bridal Shop's Paid Marketing), you're probably familiar with what we refer to as 'Appointment Intent.'  
Appointment Intent describes the desire of a potential customer to actively search for a business that can cater to their needs. 
In the context of the eBook, we talk about how Google ads are very effective for bridal shops, because brides with a high appointment intent tend to use Google when they are looking for an appointment. 
With the onset of the Coronavirus, our strategy on Google has to shift.  Instead of running campaigns with the goal of capturing people who are actively searching for bridal shops, you want to start running remarketing campaigns.  
Remarketing campaigns are campaigns that target individuals who have visited your website. 
What this will do, is keep your store present in the eyes of people who have landed on your website from here on out.  That way, they will constantly be reminded of your store as they browse other websites. 
Pros:
Very inexpensive compared to regular google search campaigns

Very targeted

: Only targeting people who have actively been to your website post-coronavirus onset

Relatively easy to set up

Can help you communicate availability of virtual/private appointments
Cons: 
Campaign Results are not immediate
Once the virus is contained, it is imperative that you commit heavily to a Google search ad campaign.  There is going to be a massive influx of brides that were denied the opportunity to try on wedding gowns, and it's all going to come in around the same time.  Here's a couple of tips to consider when that happens:
Stay Local: Yes, your shop has probably drawn people from hundreds of miles away in the past, but there are more than enough brides that will actively be looking in your own backyard.  Keep your costs in check, and make sure your Google search campaign is local. (20-50 miles radius)

Target keywords that convert: Do not get wild with Google 'broad match' keywords.  Brides search terms like 'wedding dresses near me', 'bridal shops [city name].' If you tell Google you want to target 'wedding dresses' then you are going to get people searching for all types of things (Wedding Dress rentals, Wedding Dress Shoes, Chinese Wedding Dresses, Cheap Wedding Dresses).  You want to be very careful when choosing the keywords you go after, and use 'Exact match' keywords if at all possible. 
SEO (Search Engine Optimization)
This period of downtime is a great opportunity for you to work on your SEO (Search engine optimization).  
SEO refers to the set of practices you undertake to achieve a higher rank on Google for search terms that are relevant to your business.
Consider the following items before embarking on your SEO strategy:
SEO is not immediate. It takes time for you to rank higher on search results

Make sure your website is secure.  (Websites that are not secure, rank lower in general)

Make sure your website is fast. (Slow websites rank lower in general)

Do not keyword cram. (Websites flooded with keywords, with a poor user experience, rank lower in general)
Now that we have that out of the way, let's talk about what you can do.  Check out our guide, 'The Do's and Don'ts of SEO for Bridal Retailers' for a comprehensive list, but here are some strategies you can implement today that will pay off in the future. 
1.)List your designers' collections on the website individually as a unique page.
This is a big one.  You can increase the number of pages you have on Google by 10-100X simply by adding a unique page for each style your designers' offer.  It is very important that each style has the designer name, and the style number in the URL at the top of the page. 
Here is an example: https://www.bridalboutiquelewisville.com/allure/spring-2020/9682
As you can see, this shop has the designer name (in this case, Allure), the collection name (Spring 2020) and the style number (9682) directly in the URL.  
2.) Write a custom description
It is very important that you do not list the exact description that your designer provides.  This will be considered 'duplicate content' by Google, and will result in your website being filtered for searches that would normally trigger your page to be listed.  Take the designer's description, and make it your own. Do this for each one of your designers' styles. 
3.) Add Categories for Silhouettes and Necklines
This will help you in two ways.  Firstly, Google will pick up on the different silhouette and neckline terms (A-Line, Ballgown, etc.) and start ranking you for those keywords.  Secondly, your site will have more engagement because your site visitors will now be able to filter down the dresses beyond the designer name. Let's face it, not every shopper is purchasing based on the designer name. Some prefer to go after styles of dress, and adding silhouette and neckline information allows for just that.
If you do not currently have the dresses on your website, then you have some homework to do.  Now is a perfect time to start upgrading the content on your website, because people have a lot more free time on their hands.  It will also significantly benefit your shop when things get back to normal because let's face it.. People want to look at the gowns before they come into the store. Do not rely on your designers' websites to showcase the gowns (the store finder is not your friend).  Take your fate into your own hands, and keep your customers on your website. 
Related Posts