How to Increase Bridal Appointments with Google Ads
Dec 17, 2019
| By admin
4
minute read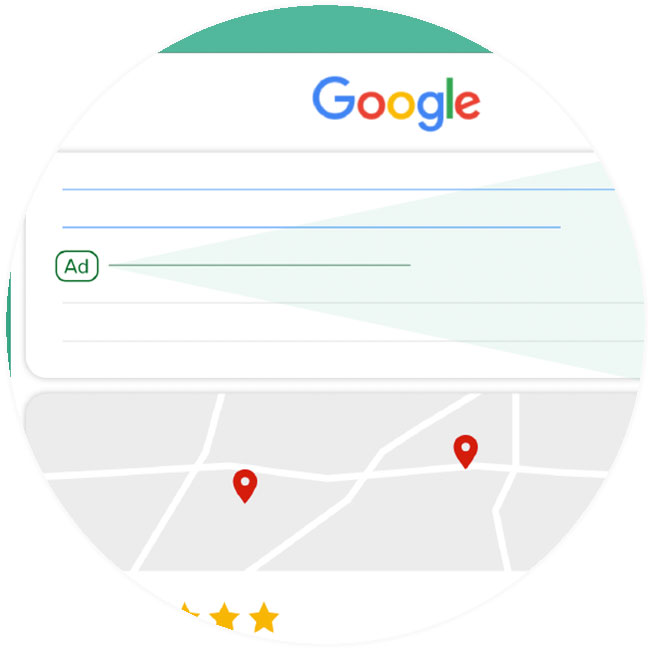 Trying to figure out where to put your marketing budget this bridal season? Our team recently analyzed a set of 500 campaigns across Facebook, Instagram and Google and the results are in…
Google Ads are the most significant driver of appointments, $ for $, when compared to other paid campaigns.
I think the logic matches our conclusions.  When we are looking for businesses, we use Google.  We might use Facebook/Instagram for inspiration.. For brainstorming.. For research.. but when it comes down to finding physical locations near us that have the products we need… Google is where we go.
Let's start off with a basic definition:
Google Ads is a product that you can use to promote your business, help sell products or services, raise awareness, and increase traffic to your website.
This is different than 'SEO.' With Google Ads, you target specific keywords, in specific areas, and bid to show up first on Google search results.
Imagine being able to talk to every recently-engaged woman in your immediate area that was actively starting their search to find their wedding dress.  That's the beauty of Google ads.  It's both highly targeted, and also timely.
It's highly targeted because let's face it… Not many people search terms in Google like 'Wedding Dresses near me' if they aren't in the market for a wedding gown.  It's also targeted by location.  You can choose the exact locations where your ads can be triggered by people searching.
So how do you even start?
Before you get too far, make sure these items are complete:
Have a website (you have to send the traffic somewhere!)
Claim your Google My Business
Secure your website (your ads will perform better if your site is secure: https)
Have a form on your website for appointment requests
Once these steps are complete, head over to ads.google.com and sign up for an account.  Become familiar with the dashboard and make sure to pay attention to the date range that your data is being filtered to.  Create a new campaign, with the objective 'website traffic.'  You will want to make sure you are only targeting areas where customers will drive to your store, and you want to use a variety of keywords that's related to your store.  (For Example: Wedding Dresses).
Here are some useful definitions:
CPC: Cost per click. This refers to the amount of money you are charged by Google when someone clicks on one of your ads
Impression: This refers to the number of times your ad has been shown
Click: This refers to the number of times your ad has been clicked
Conversion: This refers to a specific goal that has been completed.  (For example, one appointment request form submission can be tracked as a 'Conversion').
Negative Keyword: This is a keyword phrase that you do not want Google to show your campaign for (example: 'where can I sell my wedding dress')
Search Term: This is the actual search term that was used to trigger your ad to be shown.
The CPC (cost per click) of most bridal-related terms is around $1.00 – $2.00.  This means, it will cost you about $10 to $20 to get 10-20 clicks on your ads.
Let's examine what that means a little further — What exactly are you paying for?
You are paying for someone in your area that is actively searching for a keyword you have on your campaign.  Meaning, you are paying for the bride down the road, who googled 'wedding dresses near me' on their iPhone, to come check out your store. This is definitely valuable!  Imagine if you decided not to run Google ads, and that same bride found your competitor first..
So…. Is it worth it?
Let's look at the numbers a little more.
It costs $1.00-$2.00 for one click. Let's assume that it takes 60 clicks to get one appointment. (in reality, it should take significantly less but let's use 60 as a conservative estimate).
So $60 for 60 clicks for 1 appointment.
Let's assume your closing ratio is 50%. Every two brides that walk in the door, means 1 sale for your store. Let's assume the average gown price in your store is $1,200.
So is it worth it?
You're paying $120 for 120 clicks for 2 appointments. Out of those 2 appointments, you sell 1 dress.
That means you're paying $120 for $1,200 in revenue.
Yes. it's worth it.
*Remember, 60 clicks for one appointment was a very conservative estimate.  It's more likely to be 20-30 clicks.  Your website plays a major role in the cost per appointment:
1.) If your website does a really good job convincing site visitors that you're awesome, your cost per conversion will be lower.  It will take less clicks to get an appointment.
2.) If your website does a poor job convincing site visitors you're awesome, you'll need more clicks to get an appointment.  Your cost per conversion will be higher.
Point is, if you're seeing a lot of clicks on your Google ads but not seeing many appointments, you might want to examine your website.
In closing, I'll leave you with a list of what you are wanting to achieve with your campaigns so you can do some goal-setting this Bridal season:
Google Ads Goals:
1.) High Click-through Rate (>5%). To increase your click through rate, write engaging copy that really sells your store to the customer.  You can use dynamic keywords in the headline/description so that your ad exactly matches what the person searched on Google.
2.) Conversion Tracking: If you really want to optimize your Google campaigns, you have to setup conversion tracking.  This will tell you how many people fill out your appointment request form directly as a result of the campaign.  Make it a goal in 2020 to setup Google conversion tracking on your website.
3.) Low Cost per Conversion: The lower the better! This is your $ cost per appointment.  Imagine having the knowledge that you can pay $15.00 to Google and get an appointment out of it where you can sell a $1,200+ gown.  Become very familiar with your Cost per conversion.
SYVO is here to help you this bridal season! Request a demo, or contact us today for your free trial! We will manage your Google, Facebook and Instagram ad campaigns for free for one month! No contracts/credit card required.
Related Posts