FROM ENGAGEMENT TO APPOINTMENT: THE NEW ONLINE JOURNEY
Jul 26, 2019
| By admin
3
minute read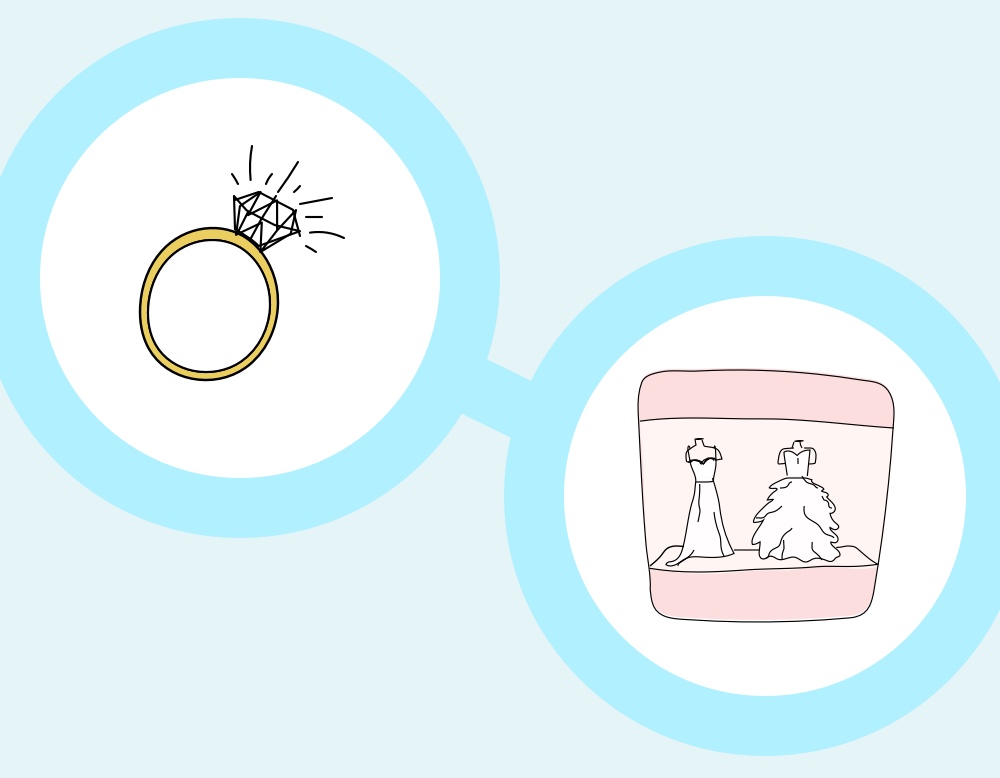 Prior to the advent of the smartphone, there were a variety of marketing methods that stores found success with.  Your store might distribute a magazine or lookbook. Other stores might purchase a billboard or radio ad. Today, successful stores use a three-step process to drive traffic to their retail outlets, and effectiveness can be measured at each step for consistent optimization of this process.
The journey begins with newly engaged brides updating their status on Facebook and letting the likes and comments flood in.  This is where part 1 of the new marketing process comes into play – Facebook and Instagram Targeted ads. The beauty of this initial outreach is in the fact that Facebook allows you to target recently-engaged individuals. Your goal should be to target every recently-engaged woman, in a set radius from your store, with unique and engaging content that gets them to check out your website.  They might not be ready to make an appointment just yet, but having the customer come to your website from a platform like Facebook or Instagram has tremendous value. 1.) The customer is now aware that you are a store in their area that has something they will need soon and 2.) You can now re-market this person everywhere they go on Google, Facebook and Instagram.
Unlike Billboards, Facebook/Instagram shows you how many people saw your ad, how many times they saw it, and what % of those people took action.  The goal is to take this immediate feedback (the number of 'impressions' and 'clicks') to establish a benchmark of performance that you continually optimize.  What makes an ad perform well? Content that is unique, engaging, and relevant performs best. If possible, invest in professional photography of your store so you can showcase your experience online. Use clear call-to-actions so the newly-engaged individual knows exactly what they should do if they like what they see. 
The overall goal of your Facebook and Instagram advertising strategy should be to generate awareness to all recently-engaged women in your area.  Since these ads are delivered to this demographic while they are using Facebook and Instagram, you might not always catch them when they are ready to get in the car and try on gowns.  This is where part 2 of the process comes in – Geo-targeted Google Ads.
The benefit to this part of the process is the fact that you are capturing brides that are actively trying to make an appointment or visit a store near them.  In 2019, how do people find nearby businesses for their various needs? The answer is, they use Google. At the end of the day, when a bride is actively ready to go try on gowns, they do not go to Facebook or Instagram and type in 'wedding gowns.' They go to Google and they search 'wedding gowns near me', 'bridal shops near me' or some variant of this.  This is where your Google ad campaign must shine. By setting an appropriate budget per day, and by targeting the correct keywords and locations, you can effectively capture all the newly-engaged brides that are ready to try on wedding gowns.
The online side of the journey is not over when a bride clicks on your Google ad. This is where part 3 comes into play — Appointment-driven website.  It is very important that you create enough engagement on your website to drive your single-most important online metric, the appointment.  At the end of the day, you want to be able to say 'I spent $X and got Y appointments'. In order to optimize this, you must have the ability for customers to book or request an appointment on your website. 
There is a very high correlation with site engagement (pages per session / average time on site) with appointments.  That is to say, increasing the time people spend on your website is effectively increasing the appointment rate on your website.  One way you can optimize this is by adding a dedicated page on your website for every one of your designers' styles (it is very important to keep the styles up to date or you risk being perceived as out-of-date/stale). 
Thus, successful stores must rely on a digital strategy in order to acquire customers in 2019.  Stores should increase brand awareness by using targeted Facebook/Instagram ads. They should run geo-targeted Google ads to capture brides that are ready to buy. These strategies, combined with an appointment-driven website that is engaging and mobile-friendly, results in a competitive and lucrative digital marketing strategy.   
Related Posts